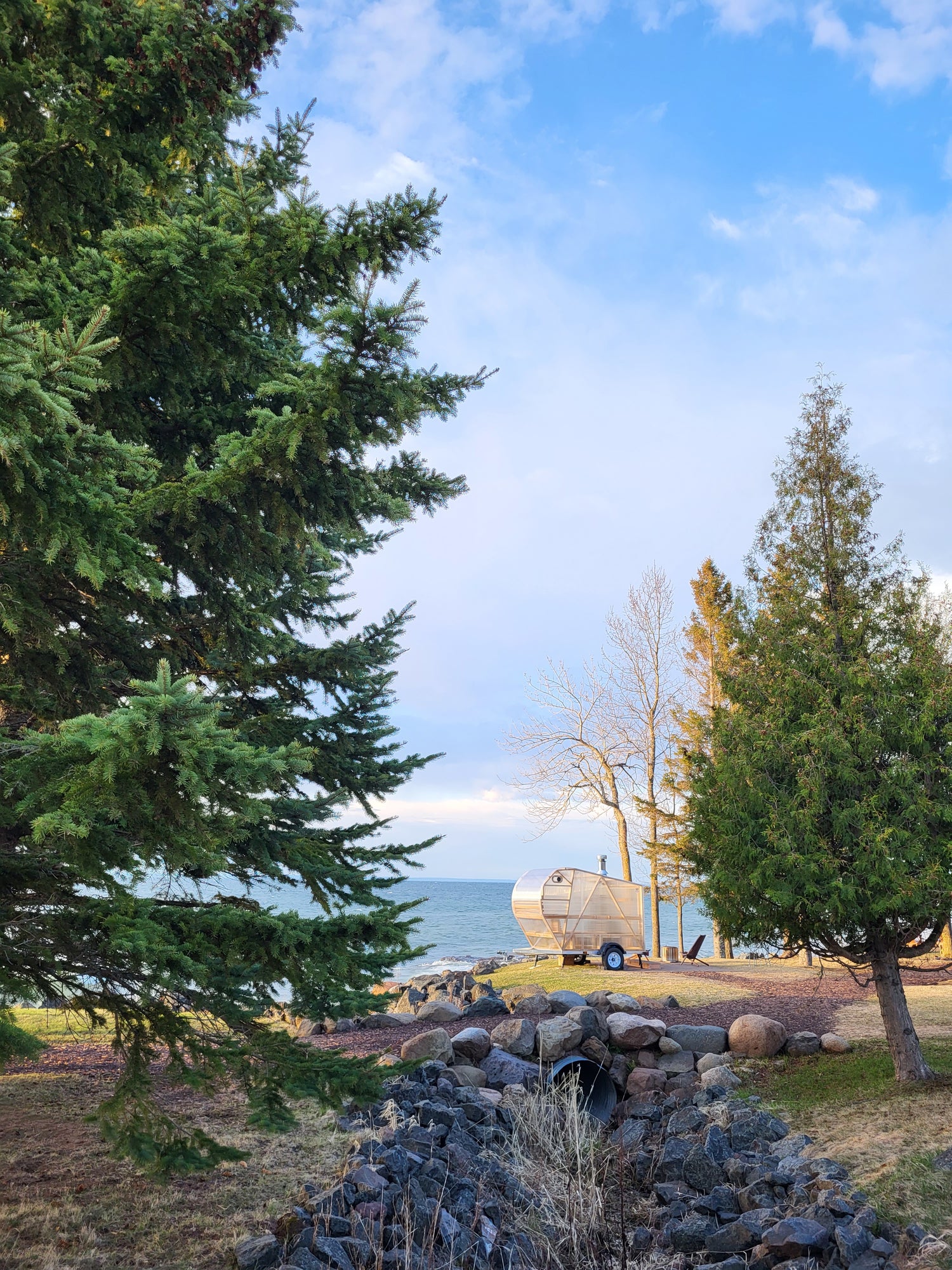 The NorthUp, an innovative ultralight sauna and space
Patent Pending
Delivery and finanacing options available (please inquire)
Accepting orders now!
Order Now
✔Lightweight ✔Hot(212F) ✔Quick ✔Spacious ✔Safe ✔Affordable
NorthUp Key Benefits
• Transparent

Natural light enriched experience, and connection to nature. Glow at night via wood-fired stove flames. Enjoy song bird melodies and conversations with an outside cold plunging buddy. Multiple tints and colors available if privacy is preferred.

• Lämpömassa

Heats up to 212F and solar-assisted. Calculated thermo mass placement enables quick heat-up temperatures, yet bold heat. Gentle löyly, two tier benches, and circular ventilation in an insulated and controllable climate.

• Portable

Lightweight without sacrificing comfort. Choose from the Minne 4x8' (~250 lbs), standard 6x10' stand-alone or trailered versions (less than 1,000 lbs).

• Sauna | Eat | Sleep, repeat

Versatile configuations are available for season-round needs. Leverage camp mode kits to fit a queen-sized mattress and dining room table for food and games.

• Safe

Shatterproof thermo-material designed for weatherability and high temperatures without off-gassing. Choice of pine or western red cedar for durable quality construction.

• SaunaTimes approved

Glenn gets it and loves it. You know it's good heat when he is a recurring visitor, by choice.
NorthUp Models
NorthUp Minne

Starts at $3,999 (without stove)

4'x8' hotroom fits 2-4 adults

Weighs ~250 lbs

Accepts sauna tent stoves

Incorporated hard plastic skid

Side and rear doors

Fits inside standard pickup truck

Buy now online

NorthUp stand-alone

Starts at $6,999 (with Harvia M3 stove)

6'x10' hotroom fits 3-6 adults

Optional 6-9 adult configuration

Weighs ~850 lbs

Accepts electric or wood fired stoves

Modular benches

Wooden skid for semi-mobility

Start build process

NorthUp trailer

Starts at $10,999 (with Harvia M3 stove)

6'x10 hotroom fits 3-6 adults

Optional 9 adult configuration

Weighs ~950 lbs

Wood fired stoves

Modular benches

Aluminum 65mph trailer

Start build process
Book a demo sweat💧
Would you purchase a car without driving it? Of course not. We'd love to schedule a time to fire-up a unit and sweat it out. Bring a friend, loved one, or supportive neighbor. Seriously.
Test Drive Experience
Mulit-purpose configurations
Interested in renting a NorthUp Sauna?
Would you like to learn more?
Reach out and let us know what kind of questions you have!
Ask a question
Testimonials
Mark, Little Ember Co., Minneapolis, MN

"I bought a NorthUp to add to my commercial sauna rental fleet.

Having a sauna that is so nimble and light that I can manually move myself by hand into really any tight space has been invaluable to the business. It also just so happens to be a great sauna experience on top of it!"

Graham, Minneapolis, MN

"We love our NorthUp sauna! The Urban Wing team was really easy to work with throughout the process. The sauna looks great, gets hot fast, and has a better price than other saunas of a simular size. This thing rocks!"

Emily & Perry, St. Louis Park, MN

"From start to finish we had a great expereince working with Darin. He is so genuine and really cares about your sauna experience. Being one of the first owners to choose an electric stove, Darin made sure we had the best experience finding the right stove that delivered the same wonderful heat as a wood burning stove. The sauna's unique design is refreshing. We didn't want to walk out of our house and into another box outside. THe NorthUp truly blurs the lines between sauna and nature. We are beyond grateful we made this life changing decision and brought home the NorthUp.

Andrea, Minneapolis, MN

During my search to buy a sauna, I did extensive research on various designs and consulted with local builders. However, it the NorthUp sauna design that truly caught my eye! What impressed me most was its multifunctional capabilities and the spaciousness of the interior! Additionally, the natural light that comes through is much needed, especially during the dark winter months. Owning a sauna is teaching me about the importance of rest and about turning towards my relationship with the natural world. I also believe that Darin is a genuinely kind and creative entrepreneur who uses saunas to build stronger communities. I love my NorthUp sauna and I respect the values that guide Urban Wing!

Dan, Los Angels, CA

Other than my phone, my NorthUp Minne is the most important possession. And the one I use the most.

And unlike my phone, I don't have to charge it.

It's sleek, it's lightweight, and it's elegant -- everything I want in a sauna. Couldn't be happier!

My wife and I use it every night before going to sleep.